Currently, Feiyan aviation remote sensing technology co., LTD. is equipped with two of the world's most advanced RIEGL vq-1560i airborne lidar measurement systems, which are applied to high-density point cloud mapping and ultra-large area mapping of the full waveform digital dual laser transmitter airborne lidar system.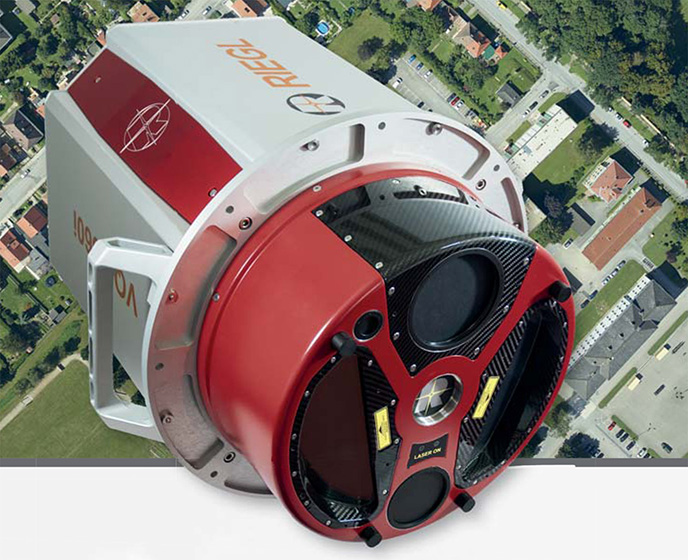 RIEGL vq-1560i is a new ultra-high performance, highly integrated and calibrated dual channel airborne laser scanner system. RIEGL's unique full waveform processing technology provides superior multi-target detection and multi-beam transceiver (MTA) work I energy. In addition, its powerful real-time waveform processing can complete the whole waveform or waveform intelligent record, get the accurate information of each target.
RIEGL vq-1560i has a maximum laser emission frequency of up to 2 million Hertz, an effective ground measurement speed of 1.330,000 dots/second, and can operate up to 4,700 meters above sea level. The system can fly at different altitudes to obtain a large range of dense point clouds. Therefore, it is particularly suitable for Aerial Surveying and mapping of super-large areas and complex urban environments. In addition, users can make effective flight plans in complex terrain, improve flight efficiency and ensure flight safety.
RIEGL vq-1560i has a unique and revolutionary front/back bidirectional synchronous scanning feature, which enables more efficient and accurate acquisition of high point density data from multiple angles at a 60° field of view.
The system is equipped with seamless integration of high performance IMU/GNSS system. Equipped with a 1 megapixel aerial camera and can be integrated with a sub-camera. All the components are highly integrated and easy to install.
FEATURES
high laser pulse repetition rate up to 2 MHz
up to 1.33 million measurements per second on the ground
offers data acquisition at a wide range of point densities
two waveform processing LiDAR channels offering excellent multiple target detection capability
enables Multiple-Time-Around (MTA) processing of up to 20 pulses simultaneously in the air
offers online waveform processing as well as smart and full waveform recording
integrated inertial measurement unit and GNSS receiver
integrated, easily accessible medium format camera
prepared for integration of a secondary camera
high-speed fiber data interface to RIEGL data recorder
housing shape and mounting flange optimized for interfacing with typical hatches and stabilized platforms
detachable handgrips for facilitated handling
DETAILED PARAMETERS
Minimum Range:100 m
Accuracy:20 mm
Precision:20 mm
Laser Pulse Repetition Rate:up to 2 MHz
Effective Measurement Rate:up to 1.33 MHz @ 60° scan angle
Echo Signal Intensity:provided for each echo signal
Laser Wavelength:near infrared
Laser Beam Divergence:≤ 0.18 mrad @ 1/e, ≤ 0.25 mrad @ 1/e2
Number of Targets per Pulse:with online waveform processing: practically unlimited;monitoring data output: first pulse
Scanner Performance
Scanning Mechanism:rotating polygon mirror
Scan Pattern:parallel scan lines per channel, crossed scan lines between channels
Tilt Angle of Scan Lines:± 14°- 28°
Forward/ Backward Scan Angle in Non-Nadir Direction:± 8° at the edges
Scan Angle Range:60° total per channel, resulting in an effective FOV of 58°
Total Scan Rate: - 600 lines/sec
Angular Step Width △θ:0.006° ≤ △θ ≤ 0.180° 17)18)
Angle Measurement Resolution:0.001°
General Technical Data
Power Supply / Current Consumption:20 - 32 V DC / typ. 250W max. 550W, depending on integrated optional components
Main Dimensions (flange diameter x height):524 mm x 780 mm (without flange mounted carrying handles)
Weight:approx. 55 kg without any camera but including a typical IMU/GNSS unit approx. 60 kg with optional components
Protection Class:IP54
Max. Flight Altitude operating / not operating:18500 ft (5600 m) above MSL1) / 18500 ft (5600 m) above MSL
Temperature Range operation / storage:0°C up to +40°C / -10°C up to +50°C
Primary Camera
Sensor Resolution:up to 100 MPixel CMOS without FMC or up to 80 MPixel CCD with FMC
Sensor Dimensions (diagonal):67.2 mm (medium format)
Focal Length of Camera Lens:50 mm
Reld of View (FOV):approx. 56.2° x 43.7°
Interface:USB 3.0
Data Storage:iX-Controller
Recommended IMU/GNSS System
IMU Accuracy:Roll, Pitch 0.0025°;Heading 0.005°
IMU Sampling Rate:200 Hz
Position Accuracy (typ.):0.05 m - 0.1 m