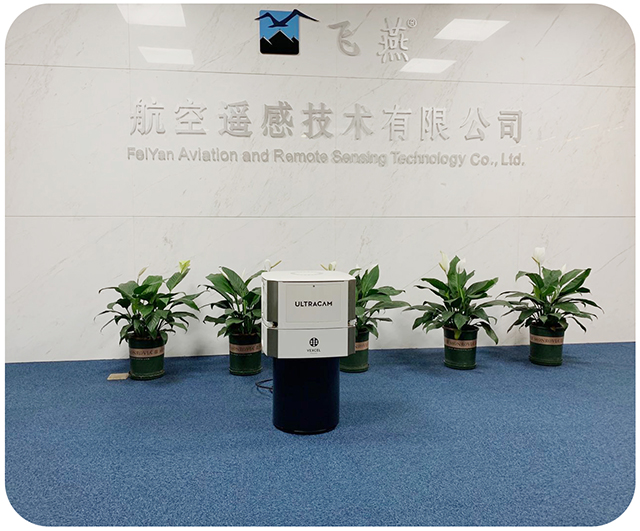 UltraCam Eagle Mark 3 digital aerial camera has been introduced by Feiyan aviation remote sensing technology co., LTD. The UltraCam Eagle Mark 3 digital aerial camera is the only large format aerial camera system with interchangeable lens. We became the first customer of UltraCam Eagle Mark 3 (UCE M3) in China.
The UltraCam Eagle Mark 3 boasts an ultra-large footprint of 450 Megapixels. It is the only digital photogrammetric aerial sensor that features a user-exchangeable lens system, providing you with a "workhorse" sensor to serve all your aerial acquisition missions.
Thanks to the latest sensor tech- nology, the UltraCam Eagle achieves an excellent minimum capture interval of one frame per 1.5 seconds. The exchangeable lens system offers the option of four lens kits at focal lengths of 80mm, 100mm, 120mm and 210mm — a groundbreaking enhancement in digital photogrammetry.
A key modification to the new UltraCam Eagle M3 is a newly developed CCD sensor based on new 4.0p technology, featuring outstanding signal/noise ratio and non-mechanical FMC by TDI.
UltraCam operators are sure to appreciate the easy to configure and operate new user-focused interface panel with touchscreen technology for in-flight quality control of each image.The result is an ultra-efficient, ultra-flexible, ultra-reliable camera for streamlined image acquisition for all your mission needs.
THE MAIN FEATURES
Flexibility: with the ultracam eagle, customers can capture more data in less time to complete mapping projects in fewer flight lines and with greater efficiency than previously possible.
User-exchangeable: exchange the lens kits on-site by trained personnel within 3-4 hours.
No recalibration: photogrammetric grade accuracy is maintained even after multiple lens exchanges.
4 focal lengths: take full advantage of the entire camera footprint of 26,460 pixels across the flight strip at different altitudes.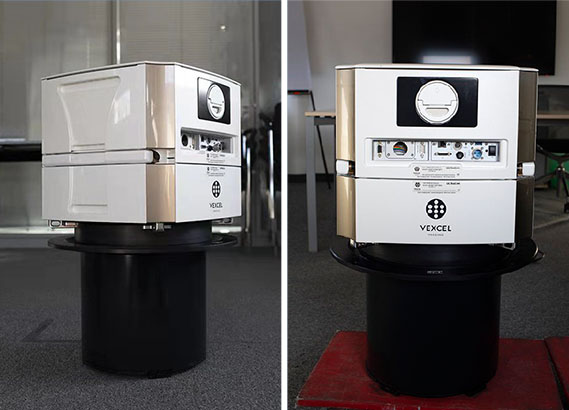 SPECIFICATIONS & DETAILS
SENSOR SYSTEM
PAN image size:26,460 x 17,004 pixels
PAN physical pixel size: 4.0 pm
Color capability (multi-spectral):4 channels - R, G, B & NIR
Color image size:8,820 x 5,668 pixels
Color physical pixel size:4.0 pm
Pansharpen ratio:1:3
Imaging sensor:CCD
Shutter (longlife central leaf):1/1000 to 1/64
Forward-motion compensation (FMC):TDI controlled
Maximum FMC capacity:50 pixels
Frame rate (minimum inter-image interval):1 frame per 1.5 seconds
Dynamic range:> 72 db
Analog-to-digital-conversion at:14 bits
DATA STORAGE SYSTEM
In-flight exchangeable & redundant storage system: Solid state disk pack
Data unit storage capacity:10 TB (~4,600 images)
Input data quantity per image:1780 MB
Weight of data unit: 2.2kg
Power consumption: max.350W
Weight:61 kg/68 kg (f210)
Configuration:Integrated housing concept
Cylinder Diameter:352mm
Flight altitude:≤ 7000 m above sea level
Humidity:5 % to 95 % no condensation
Temperature:0 °C to +45 °C(operation, computer stack),-20 °C to +45 °C(operation, sensor stack),-20 °C to +65 °C (storage)
Mounting: UltraMount (GSM4000 & GSM 3000) and most current third party mounts
GNSS/INS/FMS system support: UltraNav (Applanix POSTrack OFM) and most current third party svstems
Data processing: UltraMap processing suite including data export in standard formats。